7 Slim down Shakes to Help You Drop a Size ...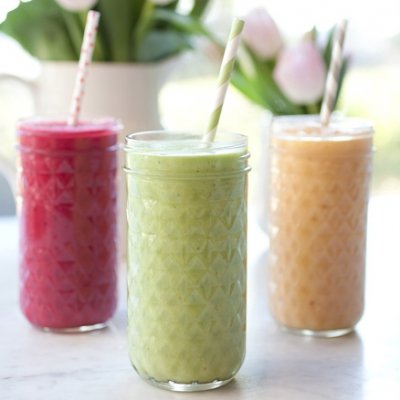 If you begin to add more natural foods and integrate fruits and veggies into your life, you will find yourself having more energy and feeling on top of the world. You will also notice your clothes fitting better and you may even drop some pounds. Just make sure your shakes do not have too much fruit. Follow along with the recipes below to help you get started on your journey to drop a size - or several!
1.

Slim down and Shape up with This Berry Shake
Detox your body to eliminate the bloating, slim down and simply feel better with this berry hemp protein shake. This shake, along with exercise, can help you slim down and shape up to have you fitting in your skinny clothes in no time. So follow along, get the ingredients and get creative!
2.

Slim down with This Natural Shake
Enjoy another simple shake with just 3 ingredients. I would only change a minor detail of this shake unless you are sharing this with a friend: use fewer bananas. One banana is plenty or the sugar content will be too high. Even though this is natural sugar, it is still sugar.
3.

Have Fun by Switching It up
Add some spinach, apples, strawberries and blueberries for a dark purple, healthy decadence shake. Follow along so you have plenty of antioxidants to aid in reducing or eliminating bloating and helping you to slim down. If you want to drop a size, make sure you eat healthier by integrating healthy shakes and also get moving more with exercise!
Master your health with fruits and vegetables blended into a green shake. This shake will boost your immune system and help you to slim down and get in shape this summer. Make sure you master your fitness health moves and combine them with this super shake to get in super shape.
5.

Lose Weight and Better Your Health
You do not have to deprive yourself to lose weight but making a great green smoothie can help. There are ingredients in this smoothie recipe that can help boost your metabolism naturally. If you are nutritionally deficient, you may find yourself feeling tired and stuck on a weight loss plateau. Just follow this recipe and get the right nutrition into your body so that you can start losing weight naturally!
6.

Detox Your Body and Become More Beautiful
To slim down, detox your body and just feel more energetic, follow along with the instructions in this video to make this super healthy shake. This shake can help you to get all your essential greens in for the day. This shake will help you to get more nutrition to help you feel super and lose weight. And if you do not have a Vitamix, no worries; try this recipe with any high power blender.
Cleanse your body and slim down by committing to this 21-day cleanse. Follow this recipe to blend it and mend your cells. This recipe can have you feeling healthier, give you more energy and boost your immunity. Detox your body, reduce bloating and feel on top of the world after following this cleanse.
So tell me, what shake will you try first? Have fun and switch it up to keep your taste buds happy!
{{#comments_count}} Show Commnents ({{comments_count}}) {{/comments_count}}