6 Simple 👌, Easy, and Delicious 🤤 Smoothie 🥛 Recipes for Fast ⏱ Weight Loss ⚖️ ...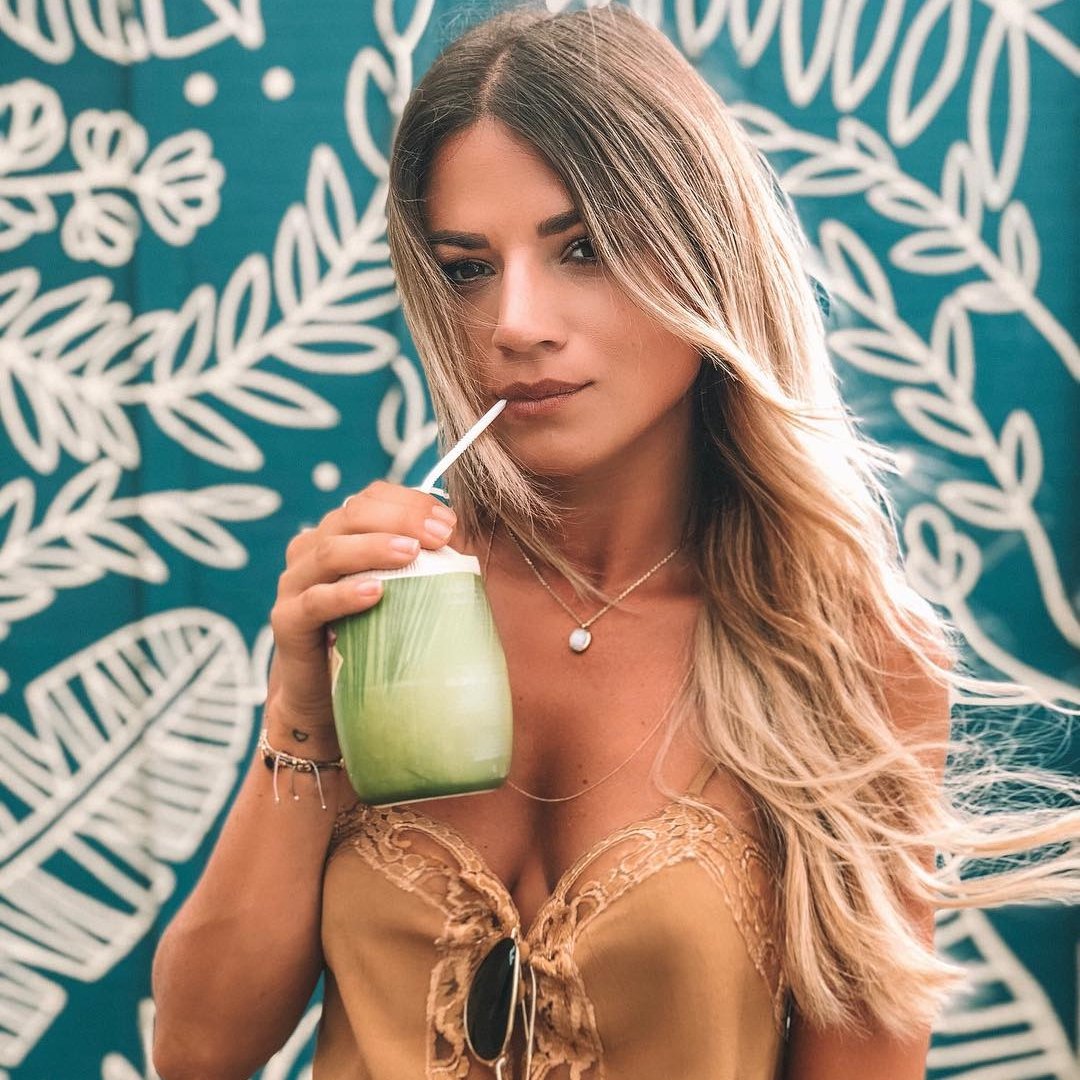 After months and months of working out, extreme dieting, and trying our hardest to stick to a healthy-ish routine, my boyfriend and I were on our way to Punta Cana this past May with rockin' bods and tons of confidence. We would be around his fam for approximately a week and I wanted to make the best impression I could with my new and improved body. Upon arriving, I looked and felt amazing, and so did my boyfriend! But after days and nights of multiple mixed drinks and rich foods, I gained the weight back + a little extra. It was as if all of those months just went in the trash, and I didn't want to do it all over again. However, it was only May, so I had the entire summer to either get back in shape on the same routine or accept that I was the weight that I was. Right? Wrong.
Once we got back home to our cozy apartment stocked with fruits and veggies of all sorts, I decided to do a little research of my own to see what would speed up my weight loss journey without any health risks or risks of gaining everything back the next day (WTF Military Diet???). After a few weeks, I came up with some nutritious, tasty, and filling weight loss smoothies that I could mix up right at home in my blender - with the added benefit of knowing what the h-e-double-hockey-sticks I was doing, thanks to my newfound, research-based knowledge (thank you, 24-hour university library). After testing them and even having a few of my friends try them out with me, we decided that they were sooooo good. But I had to see if they actually aided in weight loss…
For two consecutive weeks (14 days), I made a list of all of the smoothies and their benefits, mixed them up, and drank away. Before the two week mark, I was 133.8 lbs. After two weeks of drinking one of these smoothies per day (usually in the morning), I was 121.6 lbs. It was like magic, and I was so thrilled that I had to share it with others! I made sure to jot down the health benefits of the ingredients I used, how much I bought per week, the calorie count, and what other health changes I made, just in case any of you are looking to mimic the exact routine to get the best results. DISCLAIMER: Drinking these smoothies alone, without a healthy diet, exercise, and drinking plenty of water, will likely not cause weight loss on its own. These smoothies are meant to aid in and speed up weight loss based on health/diet articles and books written by professionals on the benefits of various fruits and vegetables. I am not a medical professional. Now, onto the ~smoothies~!
Smoothies:
This smoothie is might sound a little sketchy, but I promise it works magic! Apples are known to have anti-inflammatory properties that aid in weight loss and a boosted metabolism. They're also chock full of antioxidants and help cleanse the digestive tract, so I guess the doctor wasn't wrong about "an apple a day." Carrots, like apples, also have anti-inflammatory properties and tons of antioxidants (plus a whole bunch of other, unrelated pros, like preventing congestion, constipation, and even acne), but also aid in the prevention of water retention, so say goodbye to water weight! Ginger is similar in that it also (surprise, surprise) has anti-inflammatory properties, but is a great and proven aid in weight loss. Triple threat, y'all
2.

Spinach, Kale, Apple, Ginger, and Lemon
This smoothie, while packed with veggies, barely tastes anything like the veggies that it contains. Spinach is rich with calcium, iron, potassium, and tons of vitamins, including vitamin A, B('s), C, E, and K. Considered one of the healthiest foods ever, it's not hard to believe spinach is a miracle weight loss ingredient. It has similar properties to apples, but also increases mental awareness and cognitive abilities. Kale, a similar superfood, decreases inflammation and even has the ability to detox your body naturally. I seriously dislike the taste of kale, but this smoothie makes it barely noticeable. A little lemon juice aids in digestion, prevents constipation, and clears up the skin. Win-win-win!
3.

Pineapple, Lime, and Coconut
Are you looking for something a bit sweeter? Look no further - I have the perfect tropical mix for you. Pineapples, known to increase energy and contain helpful vitamins, are perfect for giving yourself an extra energy boost in the morning. Limes, too, have a bunch of nutrients and weight loss properties, such as anti-inflammation and detoxification. Coconut (water) is an added ingredient for taste, but a cup of coconut water only contains 45 calories, so why not?
4.

Cucumber, Blueberry, Pear, and Kale
Kale is back, but better than ever with these next ingredients. First up: cucumber. Cucumbers are full of vitamin K, which helps with healthy digestion, healthy bones, and a healthy immune system, but it also prevents and treats IBS and bloating. Second: blueberries. Blueberries are packed with antioxidants that aid in anti-inflammation, while also preventing diarrhea, constipation, and digestive issues (you get the idea). Finally: pears. Pears are linked to colon health and anti-inflammation; they also hide the undesirable flavors like kale and have low-calorie count
5.

Strawberry, Kiwi, and Spinach
I love strawberry & kiwi together, but it's a lot of sweet to take down, so I thought I'd throw in some spinach to calm the sugar storm. Guess what? It worked. Strawberries, while delicious, have an incredible amount of minerals, vitamins, and antioxidants that promote mental health, the digestive system, and the immune system. It also has anti-inflammatory properties that contribute much to weight loss (if eaten in moderation, of course). Kiwis are comparable in that they decrease inflammation and up your antioxidant intake, but also contain fiber that speeds up weight loss and calms IBS symptoms. You might have to go to the bathroom a bit more, but it's totally worth it
6.

Beet, Watermelon, and Blueberry
Some dread beets, others love them. For this smoothie, you can't even tell they're there (sorry, Dwight). Beets cleanse the digestive tract and the kidneys while also maintaining detoxification properties. Watermelons are similar, but are great for anyone who doesn't like water; they contain 92% water and prevent fluid retention so you can feel better about drinking this smoothie instead of that glass of lukewarm water
Recipes (with calorie count):
You will need: 2 chopped medium apples, 2 chopped medium raw carrots, 1 tablespoon of ginger powder OR 5 peeled slices of fresh ginger, and 1 cup of water. Blend with or without ice. Enjoy. Calories: 254
2.

Spinach, Kale, Apple, Ginger, and Lemon
You will need: ½ cup of chopped spinach, ½ cup of chopped kale, 1 chopped medium apple, 1 tablespoon of ginger powder OR 5 peeled slices of fresh ginger, 2 tablespoons of lemon juice, and 1 cup of water. Blend with or without ice. Enjoy. Calories: 105
3.

Pineapple, Lime, and Coconut
You will need 1 cup of pineapple chunks (canned or fresh, no juice/syrup added), 2 tablespoons of lime juice, and 1 cup of coconut water. Blend with or without ice. Enjoy. Calories: 119
4.

Cucumber, Blueberry, Pear, and Kale
You will need: 1 small cucumber diced (with or without skin, but with skin is better IMO), 2 handfuls of blueberries, 1 diced pear, ½ cup of chopped kale, and 1 cup of water. Blend with or without ice. Enjoy. Calories: 202
5.

Strawberry, Kiwi, and Spinach
You will need: 10-15 strawberries, 1 chopped and peeled kiwi, 1 cup of chopped spinach, and 1 cup of water. Blend with or without ice. Enjoy. Calories: 102
6.

Beet, Watermelon, and Blueberry
You will need: 1 diced beet, 1 cup of diced watermelon, 2-3 handfuls of blueberries, and 1 cup of water. Blend with or without ice. Enjoy. Calories: 113
Health/Dietary Changes:
- Every morning and night, I would make an ACV drink to help out my metabolism. Apple cider vinegar can be found at your local grocery store. I usually mix 1 tablespoon of ACV, 1 tablespoon of honey, and ½ cup of water. You'll end up with a very potent drink that some will love and some will hate. In the beginning, I had to plug my nose to get it down, but after a while, you get used to it.
- I followed a workout routine that I did once in the morning and once before bed, every day. Here is the complete workout routine: 50 jumping jacks, 25 lunges right leg, 25 lunges left leg, 20 high knees, 1 one-minute wall sit, 20 pushups, 25 crunches, and 1 one-minute plank. You can switch up the order, of course.
- I drank between 7-8 cups of water in addition to the water in the smoothies every single day. I would usually add slices of cucumber or a bit of lime juice to make it less bland, but you can add a variety to yours (just no artificial sweeteners).
- I ate foods that made me feel good without going overboard and I only drank coffee (with a splash of almond milk), tea (with honey), water, and the smoothies; everything in moderation. I didn't cut any food group out entirely, but I tried eating more fresh fruits/veggies, less dairy, less simple carbs, and less sugar. I also made a list of what I ate every day and was aware of my calorie intake by using the MyFitnessPal app. It's free and gives you the ability to count your daily calories, log what you've eaten, and even measure how many calories you've burned from your workouts. 10/10 recommend.
- I tried (TRIED) to get at least 6 hours of sleep every night. Everyone has their own schedules and goes to bed their own way, but I found it MUCH easier to fall asleep while reading a book/magazine than watching Netflix. I also tried to be in bed by 10-11 and had all or most of my work done for the day by that time.
- I did Pilates three times per week, in my living room, through Netflix/Amazon Prime. I switched up the instructors and the versions, but I never went past the intermediate level. You can also find some really good instructors/sessions on YouTube for free.
After completing the 14-day routine, I felt better than ever, both physically and mentally. I have mild IBS and felt absolutely no symptoms whatsoever, and I've gained so much energy and confidence that I didn't even know I could have. For anyone struggling to get that extra weight off or looking to get into (or back into) clean eating, I'd definitely recommend kick-starting it with this fun, healthy, and safe "diet." Bon appétit!
{{#comments_count}} Show Commnents ({{comments_count}}) {{/comments_count}}