7 Weight Watchers Approved Snacks ...
By Jennifer
If you're one of the millions of men and women who've had success with the Weight Watchers diet and lifestyle plan, then you know how marvelously simple it can be to choose the right foods. Their system makes it easy to know the good from the bad, even when it comes to snack foods. I've compiled a few of my own fave craves to share… here are 7 Weight Watcher-approved snacks… I hope you're not hungry!
---
1

Wholly Guacamole 100-Calorie Snack Packs

I first saw these little guacamole serving packs on this season of "The Biggest Loser" and I had to try them! They're delicious, and can be enjoyed in so many ways: as a topping or a filling or just as a stand-alone snack. Yum!
2

Cereal Bar

Did you know that some cereal bars and even granola bars can be Weight Watchers approved snacks? For instance, I know that most of the Quaker Chewy Granola bars are loaded with sugar, but if you're craving a sweet treat, keep in mind that they're filling, satisfying, sweet… and come in 90 or 100 calorie versions, too!
---
3

Trail Mix

As long as you're not wolfing down trail mix that's filled with candy bits or anything yoghurt-coated, trail mix can be a delicious, healthful, diet-friendly snack. If you're having a hard time finding a good one in the store, make one yourself, with almonds, raisins, sunflower seeds, and other dried (but not sugared) fruits. Yum!
---
4

Grape Tomatoes

This one will only work if you actually LIKE tomatoes! A handful of crisp, tart grape tomatoes is a marvelous snack, and another one that's Weight Watchers approved! They're loaded with vitamin C and lutein, so they're good for you all around…
---
5

Berries

Here's another Weight Watchers approved snack that's sure to curb your sweet tooth! It's summer, and that means there's an abundance of sweet, delicious berries to choose from: strawberries, raspberries, blueberries and more! Just wash and eat… don't cover them in sugar or whipped cream. They're sweet enough already!
---
6

Quaker Quakes

I love these super-crunchy little snack cakes! They come in big bags to keep at home, or in small bags you can munch on while you're on the go. They come in sweet, salty, or savory flavors. Try them all to see which you like best, and make sure to keep them on hand to avoid making snack mistakes.
---
7

Baked Chips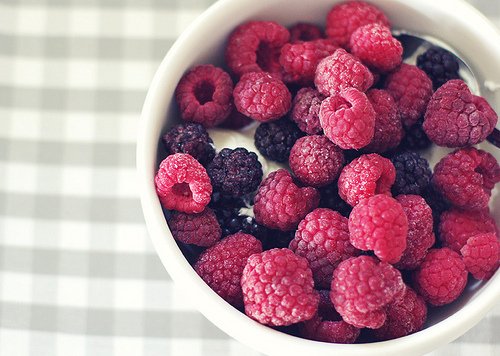 I actually prefer the taste and texture of baked chips over fried chips now. My favorites are the Bakes Lay's Barbeque. They're so delicious, either on their own or with a sandwich! There are other brands and flavors, too… salt craving, be gone!
See what I mean… total yum! And all of these tasty little treats are Weight Watcher approved snacks, so you can indulge without ruining your diet. I especially love that Wholly Guacamole… it's so tasty! Which of these snacks do you like best? Or is there another Weight Watchers approved snack you like more?
---
Popular
Related
Recent