8 Mouth-watering Paleo Snack Recipes ...
By Lisa
If you're on the hunt for some tasty Paleo snack recipes, I've got eight great ones for ya! If you're new to the Paleo Diet, according to The Paleo Diet website, the Paleo way of eating is based primarily on foods that mimic the foods our ancestors consumed to optimize your health and help you lose weight. This way of eating has gained a lot of popularity due to its focus on improving your health while losing weight. Whether you're a Paleo vet or a newbie, check out these awesome Paleo snack recipes and give 'em a try!
---
1

3-ingredient Energy Bar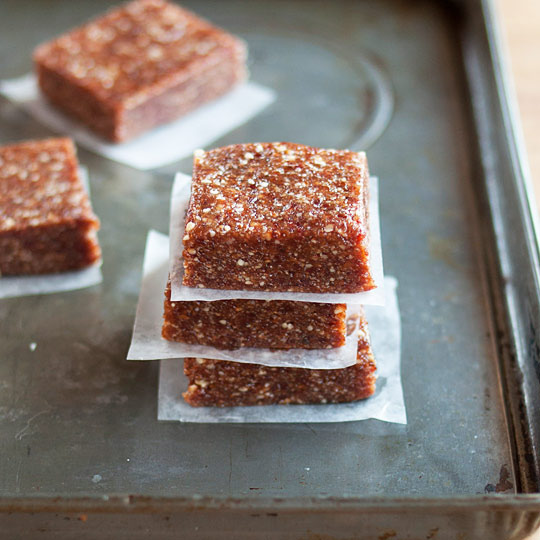 One of the simplest and tastiest Paleo snack recipes I found were these DIY energy bars! Why buy expensive energy bars with who-knows-what in them when you can easily make your very own with only three simple ingredients?! Make a batch to eat as a great on-the-go snack for you and your friends!
Ingredients:
1 cup nuts
1 cup dried fruit
1 cup (12-15 whole) dates, pitted
Equipment:
Food processor
Plastic wrap or wax paper
Sharp knife
Directions:
Roast the nuts (optional). Nuts can be used raw or roasted; roasting will add a toasty, nutty depth to the bars. If desired, roast the nuts at 350°F for 10-12 minutes, until fragrant and golden. Allow to cool before using. (See: How to Roast Nuts in the Oven)
Combine the nuts, dried fruit, and dates in a food processor. Combine all the ingredients in a food processor. Pulse a few times just to break them up. Separate the dates if they start to clump together.
Process continuously for 30 seconds. By this point, the ingredients should all have broken down into crumb-sized pieces. Scrape the edges of the bowl and beneath the blade to make sure nothing is sticking.
Process continuously until a ball is formed, 1-2 minutes. Continue processing for another 1-2 minutes, until the ingredients clump together and gather into a ball.
Press into a disk and chill. Lay a piece of plastic wrap or wax paper on your work surface and dump the power bar dough on top. Press the dough with your hands until it forms a thick square disk, roughly 8" x 8" in size. Wrap and chill for at least an hour or overnight.
Divide into bars. Unwrap the chilled power bar dough and transfer to a cutting board. Cut into 8 large bars or 16 small squares, as desired. Wrap each bar in plastic wrap or wax paper.
Store the bars. Store the bars in the fridge for several weeks or in the freezer for up to three months. The bars can be eaten straight from the fridge or freezer and will be firm, but chewy. Room-temperature bars are perfectly fine to eat and can be kept in a lunch bag or backpack all day, but will be more soft and paste-like.
Additional Notes:
Energy Balls: The power bar dough can also be shaped into small balls. Refrigerate until firm, then wrap in plastic for longer storage.
Try These Combinations! Cherry-almond, apricot-almond, cranberry-pecan, apple-cinnamon-walnut
Try These Add-Ins! Shredded coconut, chia seeds, chocolate chips, cacao nibs, cocoa powder, crystallized ginger, ground cinnamon, ground nutmeg, ground cardamom, lemon zest, lime zest
Source: thekitchn.com
---
2

Fruit Leather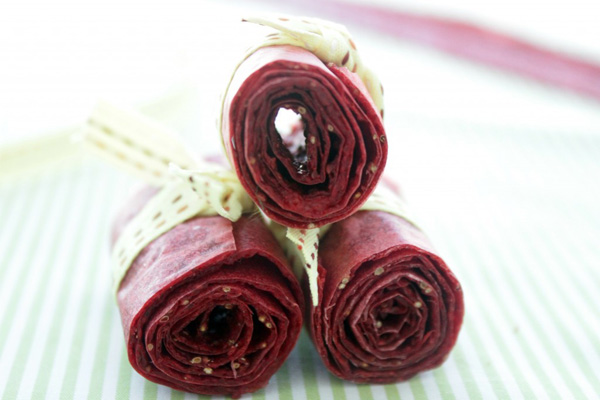 Another great Paleo snack idea is to make your own fruit leather. Don't let your kids eat sugar-laden fruit roll-ups that aren't very cost effective. Give them some of these delicious homemade treats you can make with only 4 ingredients! These snacks are great for kids of all ages and would make a fab midday snack!
Ingredients:
2 large apples
2 cups strawberries
1 tsp cinnamon
¼ cup purified water
Directions:
Clean, core and dice apples. Add diced apples and strawberries in a blender and add a ¼ cup of purified water and cinnamon and process about 30 seconds or until smooth. Pour mixture on a teflex sheet (a Teflon-coated sheet commonly used to dehydrate delicate foods) and place in a plastic dehydrator. Dehydrate for 6-8 hours, remove teflex and flip fruit. Continue drying another 4-6 hours or until desired consistency is achieved. Use a pizza cutter to slice into snack-size pieces.
The last two recipes may be done in an oven if you don't have a food dehydrator. Times will vary so keep an eye on it, but they will likely take about as long. A good rule of thumb when using an oven to dehydrate is to set the temperature between 100 and 150 degrees Fahrenheit, and keep the oven slightly cracked for the duration of the dehydration.
**Source: **marksdailyapple.com
---
3

Chocolate Covered Bacon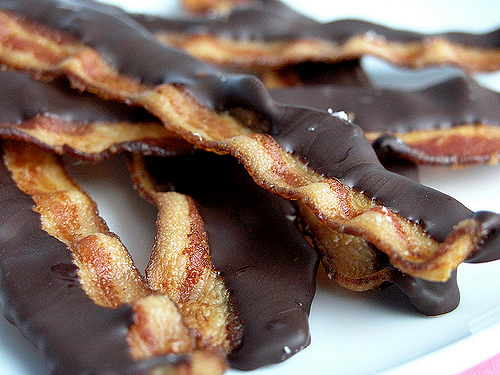 So this might not be your typical snack recipe, but if you're looking to try something different and fun while staying on track with your Paleo lifestyle, this is perfect! I personally feel that anything covered in chocolate is worth trying so I can see myself making these in the future! Why not make these for a party or as a surprise for dessert!
Ingredients:
2 lb thickly sliced bacon
1 lb good quality dark chocolate
4 tbsp butter or ghee
Directions:
Fry the bacon in a medium hot and large pan until crisp. Fry in batches if your pan is too small to contain all the bacon slices at once. Remove bacon from the pan and dry with a paper towel. Keep the rendered bacon grease for future cooking.
Melt the chocolate in a pot with the butter or ghee slowly so it doesn't burn. Using thongs, dip the bacon slices in the chocolate, either on one half of the slices or on the whole slice.
Place the chocolate dipped bacon on a cooling rack placed over foil or parchment paper. Let cool for about 2 hours, until the chocolate has hardened. Cut the bacon slices in bite sized pieces, if desired. Serve right away or store in a container in the refrigerator.
**Source: **paleodietlifestyle.com
---
4

Avocado with Sunflower Seeds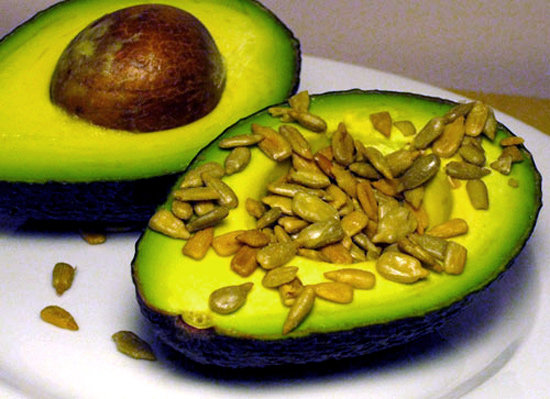 Paleo snacks don't all have to be sweet! This next snack idea takes creamy avocado with crunchy and slightly salty sunflower seeds for the perfect mix of good fats and vitamins. This snack is also super easy to make and is an easy way to get some nourishment while keeping the "hangries" away!
Ingredients:
1 avocado
Sunflower seeds
Directions:
Dice a quarter of a creamy avocado and sprinkle with salted sunflower seeds for a crunchy kick.
**Source: **fitsugar.com
---
5

Paleo Pizza Bites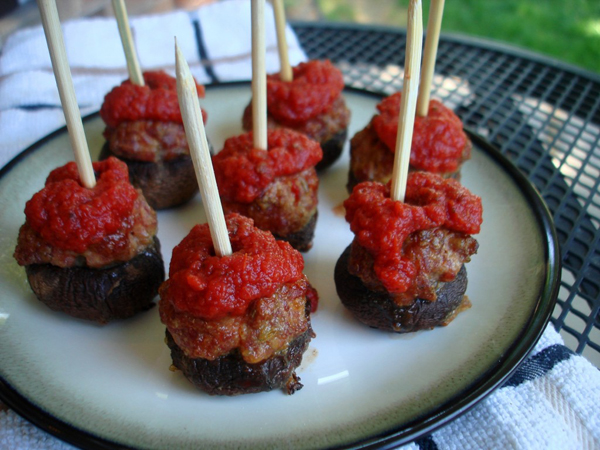 This next Paleo snack idea makes an amazing appetizer, party hors d'oeuvre or, of course, snack! This pizza bite is very different from your typical pizza, there are only 4 ingredients with no pepperoni or cheese but it still tastes divine!
Ingredients:
12 button mushrooms, wiped of any dirt and stems removed
½lb Italian sausage
1 egg white
¼-1/2 cup pizza sauce or no sugar added marinara sauce
Directions:
Turn on your grill so it's hot. Make sense. Wipe down your mushrooms and remove stems. Then place them stem side up on a plate.
Throw your Italian sausage in a bowl along with your egg white. Use your hands to combine it all together. Then make tablespoon size balls of the meat mixture and plop them into the cap of the mushrooms.
Place on top rack of grill and cook for about 8-10 minutes or until sausage is cooked through. Top each mushroom and sausage cap with either hot or cold pizza/marinara sauce! Stick a toothpick in it and EAT IT.
**Source: **paleomg.com
---
6

Baked Veggie Chips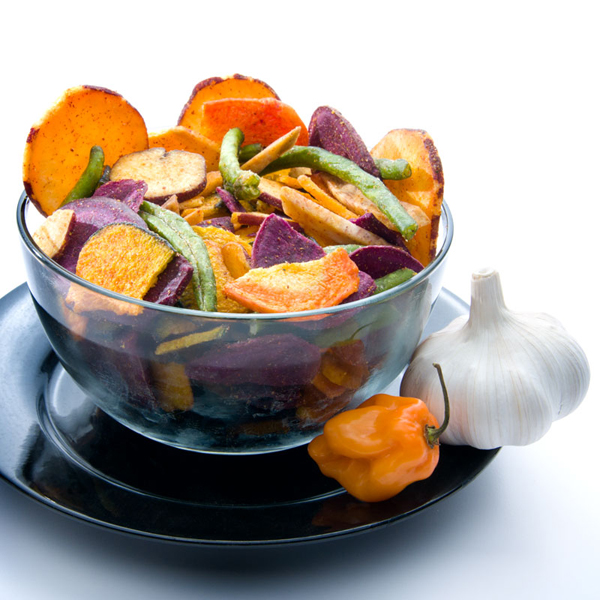 If you're a big fan of chips, you'll love these veggie chips that are much healthier and lighter than their greasy, calorie-filled equivalent. Instead of buying pricey veggie chips with questionable ingredients, make your own veggie chips that you can feel good about eating!
Ingredients:
4-5 root veggies such as beets and sweet potatoes
2 Tbsp olive oil
parchment paper
salt and pepper to taste
Directions:
Slice vegetables as thin as possible using either a very sharp knife or mandolin on the thinnest setting. Preheat oven to 40o. Sandwich slices in between paper towels with a bit of salt to help soak up as much moisture as possible. This will help the veggies crisp.
Remove slices from paper towels and toss in a bit of Paleo friendly oil such as coconut, olive or avocado. Line a large baking sheet with parchment paper to prevent sticking, and place veggies in a single layer, leaving room in between each slice. Add salt and pepper to taste. Other dried herbs like thyme, oregano or garlic salt are tasty too.
You could make chili lime chips or any flavor you like. Depending on the thickness of the slices you may have to flip them halfway through cooking. Bake for about 10 minutes or until slices are crisp and begin to curl up and brown around the edges. Enjoy!
**Source: **thepaleofoodie.wordpress.com
---
7

Baked Sweet Potato Fries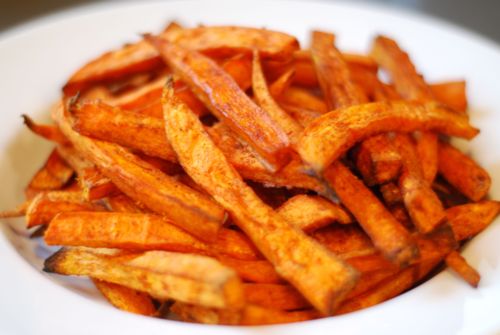 I adore sweet potatoes because they're loaded with fiber, manganese, vitamins and beta carotene for helping protect your skin from sun damage. I also love the slightly sweet taste of sweet potato that can easily taste like you're eating a sinful sweet treat! This Paleo snack idea takes healthful sweet potatoes and bakes them for the perfect combo of salty and sweet!
Ingredients:
2 large garnet yams
2 tablespoons of coconut oil, melted (I just nuke it in the microwave for ~30 seconds)
Kosher salt
Freshly ground pepper
Smoked paprika (or your favorite seasoning – cinnamon works well, too!)
Directions:
I preheated the oven to 375 F on convection bake (or 400 F in a non-convection oven). I peeled the yams and cut them into even matchsticks. Then, I placed them on a foil-lined baking tray (line with parchment paper for a crisper exterior) and tossed the yams with the coconut oil, salt, pepper, and smoked paprika.
I popped the fries in the oven for about 30 minutes, flipping the frites and tray halfway through. When they were tender in the middle and browned on the edges, I plated them up and we dug in.
**Source: **nomnompaleo.com
---
8

Raw Vegan Fudge Brownies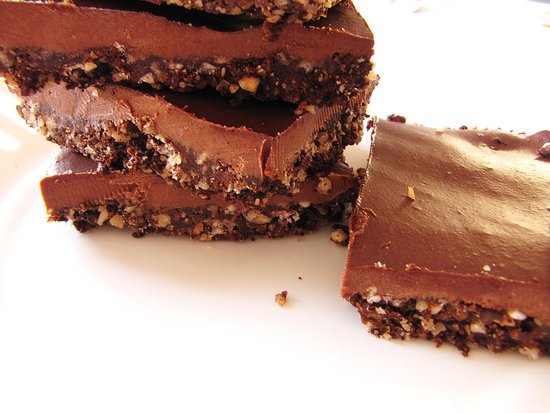 For the last Paleo snack I wanted to share a really decadent treat that you can indulge in as a healthy pick-me-up or enjoy as dessert. These brownies are made with ingredients that you won't feel guilty about eating and you won't find any weird chemicals or preservatives in these babies!
Ingredients:
Bottom Ingredients:
1 cup pitted medjool dates
1 cup mixed raw walnuts & almonds
1/4 cup raw cocoa
Top Ingredients:
2 ripe bananas
1/2 cup raw cocoa
4 tbsp raw almond butter
4 tbsp raw honey
Directions:
Mix together all bottom ingredients in a food processor until well blended. Spread bottom ingredients in a large glass baking pan until evenly distributed. Mix together top ingredients in a food processor until well blended. Spread top blend over bottom layer base until evenly distributed.
Place in freezer for 30 minutes. Cut into 16 squares, serve and enjoy! Re-freeze whatever you don't eat and enjoy at a later date!
**Source: **fitsugar.com
Are you getting your grocery list ready?! These Paleo snacks are an amazing way to satisfy your sweet tooth or get your salty snack fix without compromising your Paleo way of eating. Although some of these recipes can take some time to make, they all only use natural ingredients that are great for you and your loved ones! What's your favorite Paleo snack?
More
---
Comments
Popular
Recent